How I Became One of Eight While Minding My Own Business
Susan Nies
My Very Bad, No Good, Yet Oddly Fun Adventures with Breast Cancer
I am so glad to meet you and thrilled that you have come to visit my site. 2018 was supposed to be the year of the empty nest and an exciting new job position. But in the words of the great John Lennon, "Life is what happens when you are busy making other plans". Life had big plans for me, a wake-up call named breast cancer. By the time we detected cancer in my left breast, it had already advanced to my lymph nodes and was staged as 2B grade 3 Estrogen Progesterone positive. In the weeks to come, I would find out that I also carry the BRCA1 genetic mutation. So let's just say that August of 2018 was a tumultuous time for my family. At the time, I viewed my diagnosis as the end, but instead, I now see that it was just the beginning of a wonderful yet daunting journey!
This picture is how my friends have thought of me through this journey.
How I have actually felt during my journey!
At the beginning of this most unpleasant situation, I swore I would never see myself as the poster child for breast cancer. At first, I treated my diagnosis as though it were a paper cut or the flu and that my life would soon proceed as normal. As the doctors' appointments and diagnostic tests became fast and furious my eyes were opened to the fact that, "Houston we have a problem". My head spun and my sweet husband and I cried when we started to grasp all of the steps I would need to take to become a survivor. During this whirlwind few weeks, I tried to start my new job as a 7th-grade Civics teacher leaving behind my 19 years in elementary Exceptional Student Education. (Yes, I am a glutton for punishment but we will discuss my other life choices later) We also dropped off our beautiful girl at college for her first time "adulting" without our nagging or training wheels. So it went something like this, "mom loves you have fun don't give my breast cancer a thought"! Good times. The Dr.'s explained that I just needed 16 rounds of chemotherapy, a double mastectomy, 30 rounds of radiation, a complete hysterectomy, and some really fun pills for ten years and boom Bob's your uncle! That sounded like fun so we got started with the fight. At the time I planned to beat cancer and never look back and certainly, I never wanted to wear or see pink again!
Before, Pregame, During and After
Getting ready to ride the bus!
Before I was hit by the
cancer bus!
After the bus hit!
Actual photo of me today! Just kidding...it was bad but not that bad:)
Let's slow this story down a bit...we should really STOP and get to know each other. You may notice my somewhat odd sense of humor coming through. That type of thing is most likely going to get worse before it gets better. I live in Florida and do not advocate for news reporters going out in our wicked storms. But hey, this one did and so her viral GIF is fair game.
This is the cute girl we dropped off at college two weeks after my diagnosis. This is my daughter, Sierra. Who knows, maybe we will let her be a guest blogger from time to time.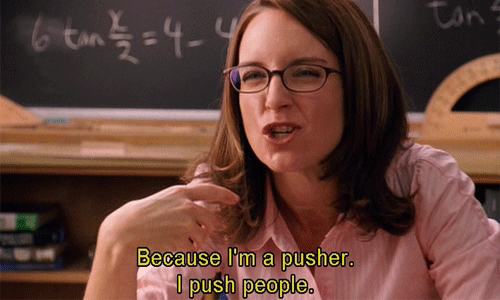 Now, let me remind you of my goals for 2018-2019 before I was so rudely interrupted. I was ready to teach my 20th year. I have specialized in Exceptional Student Education at the elementary level for the previous 19 school years. This year I decided to challenge myself and move to middle school to teach 7th grade civics. I remember how awkward I was at that age and I thought that I would be able to make a difference and reminds them of how awesome they are becoming. Unfortunately, this goal is on hold until August 2019.
Things I Believed Before I Had Breast Cancer
1. Other people get cancer.
Despite a very limited family history on either side of my family, I was the only the second close relative diagnosed with cancer of any kind. Shockingly, I also inherited the BRCA1 genetic mutation from my dad who is 76 and still works every single day!
2. I am too young to have cancer!
​
I just turned 48, so I am no spring chicken but I live in Florida (one of the retirement capitals of the world) so you can see how I would have this ridiculous assumption. Sadly, I have now met several women in their 20's, 30's and 40's with breast cancer. It is a terrifying epidemic! Women fighting cancer while caring for toddlers and some receiving chemo while pregnant.
​
​
3. Not that many people get breast cancer.
​
WRONG!
According to BreastCancer.org
About 1 in 8 U.S. women (about 12%) will develop invasive breast cancer over the course of her lifetime.
​
In 2019, an estimated 268,600 new cases of invasive breast cancer are expected to be diagnosed in women in the U.S., along with 62,930 new cases of non-invasive (in situ) breast cancer.
​
About 2,670 new cases of invasive breast cancer are expected to be diagnosed in men in 2019. A man's lifetime risk of breast cancer is about 1 in 883.

For women in the U.S., breast cancer death rates are higher than those for any other cancer, besides lung cancer.

A woman's risk of breast cancer nearly doubles if she has a first-degree relative (mother, sister, daughter) who has been diagnosed with breast cancer. Less than 15% of women who get breast cancer have a family member diagnosed with it.

​

About 5-10% of breast cancers can be linked to gene mutations inherited from one's mother or father. Mutations in the BRCA1 and BRCA2 genes are the most common. On average, women with a BRCA1 mutation have up to a 72% lifetime risk of developing breast cancer. For women with a BRCA2 mutation, the risk is 69%. Breast cancer that is positive for the BRCA1 or BRCA2 mutations tends to develop more often in younger women. In men, BRCA2 mutations are associated with a lifetime breast cancer risk of about 6.8%; BRCA1 mutations are a less frequent cause of breast cancer in men.
​
​
4. You would feel very sick if you have cancer.
​
Not always. I had a 5cm tumor with lymph node involvement and was at the gym exercising several times a week.
5. There is only one type of breast cancer.
​
On the contrary, my breast cancer was fueled by estrogen and progesterone. Another type of breast cancer is triple negative breast cancer this means that the three most common receptors that fuel growth-estrogen, progesterone, and the HER-2 gene are not present. You may even have the HER-2 gene but have estrogen and progesterone negative cancer. I am sure that this is not a complete list although I believe these to be the most prevalent types of breast cancer.
​